As a voice for farm animals, RASTA provides educational and interactive private tours to the public during the summer months, from June to October.  Visits to the Sanctuary are aimed at educating visitors about the modernized agricultural farming industry and its impact on the animals and our earth as well as human health.  After a brief presentation about factory farming visitors are able to interact one-on-one with the many rescued animals both farm and domestic.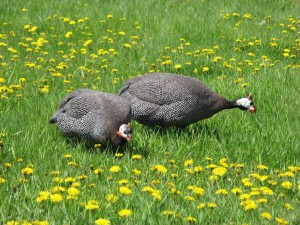 Not a Petting Zoo
As RASTA prides itself in being a Sanctuary, not a zoo, where animals are looked after rather than looked at, visits are limited in size (max 10 people) as well as frequency (once a week).  All visits to the Sanctuary are strictly by appointment only and it normally takes about a week or so to schedule a tour.

What to Wear
The tours are all exclusively outdoors and visitors are encouraged to dress appropriately for the weather.  Sturdy, closed-toe footwear is required as well as clothing that you don't mind getting dirty as some of the animals like to get up close and personal.  If it's raining there's a chance that it could be muddy so rubber boots are suggested.

Children
While children are welcome to visit the Sanctuary, they must be well mannered and under control at all times as well as able to quietly pay attention to a brief (10-15 min) educational presentation in a non disruptive manner.  Out of respect to the animals, no running, chasing or yelling is permitted.  While most of the animals are very friendly, not all of them enjoy being petted and it's up to them whether or not they wish to socialize.  For safety reasons, we require a ratio of one guardian for every two children and strollers are not permitted as they scare the animals.  If children are very young they may need to be carried when around the larger animals.  
Dogs

For your dog's safety as well as that of our animals we kindly ask that you please leave him or her at home.
Booking & Cost
Visits to the Sanctuary are limited and strictly by appointment only.  We normally book tours about a week or so in advance.  RASTA does not charge a fee for visiting the Sanctuary, however in order to continue to operate donations are needed.  A suggested donation is $20 per person and the average tour takes about an hour.  If you would like to donate more, RASTA is a registered charity and can issue you a tax deductible receipt.
Address

The Sanctuary is located on Vancouver Island at 9233 Chemainus Road in Chemainus, B.C.
Parking
Upon entering our gravel driveway at 9233 Chemainus Road the parking area is located immediately to your left (north) along the fence facing our neighbor's house.  Please do not park in the driveway as this blocks access for others.
Washrooms

We have a rented porta-potti on site for visitor use.

Tardiness
The Sanctuary is a very busy place and we kindly ask that visitors arrive on time.  If you are more than 20 minutes late you will need to reschedule for another time.
To set up a summer visit, you may contact us here.

"If you have men that will exclude any of God's creatures from the shelter of compassion and pity, you will have men who will deal likewise with their fellow men"
~ St. Francis of Assisi ~

"Nothing will benefit human health and increase chances of life on earth as much as the evolution to a vegetarian diet"
~ Albert Einstein ~